BACK TO ALL ARTICLES
December 16, 2022
Academy Bus Charter Service Caps Second Half of 2022 with Extensive Special Event Support Up and Down the Eastern Seaboard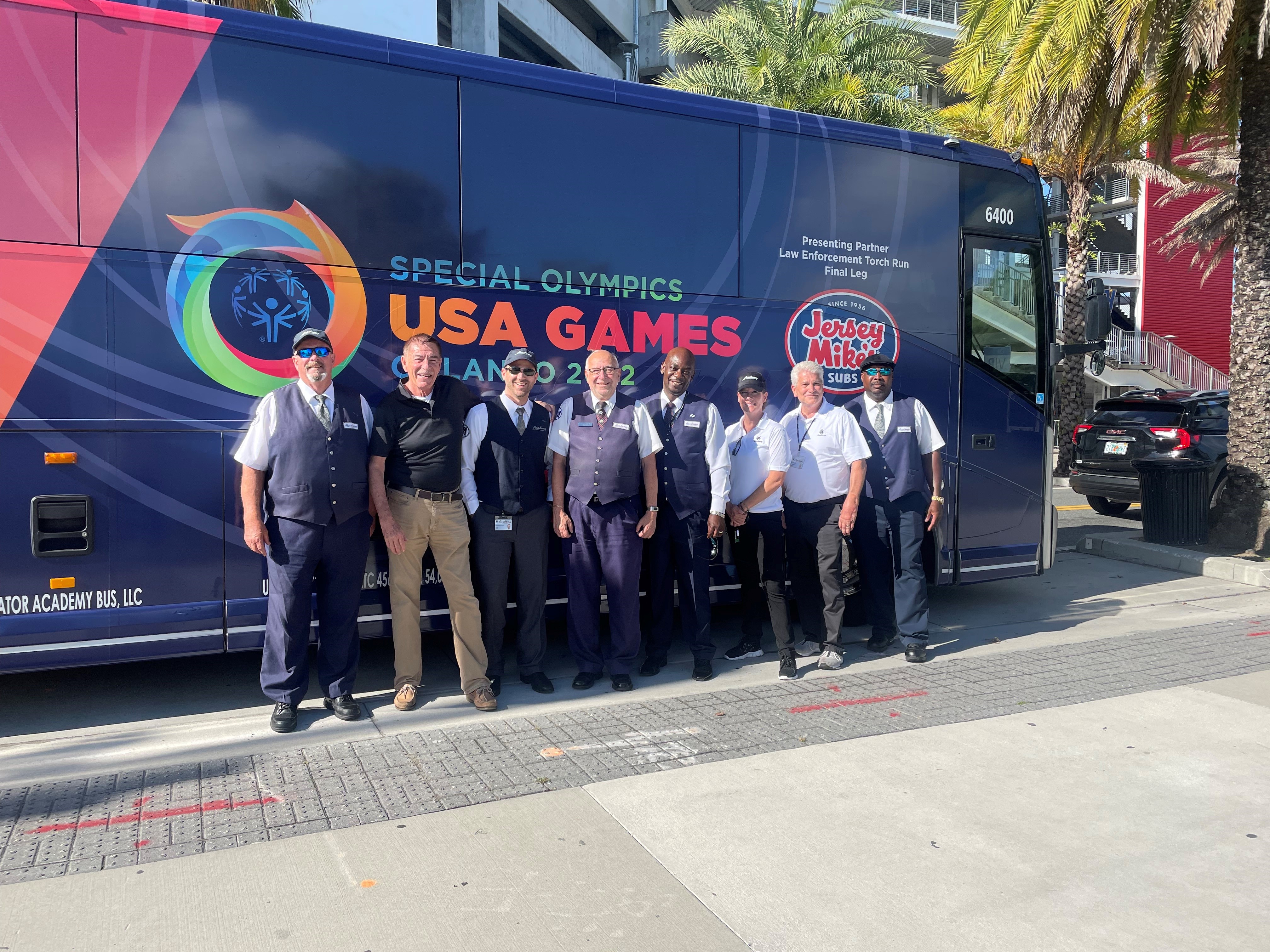 From the 2022 World Series to the NYC Thanksgiving Parade to Transportation Support for runDisney, Academy Bus Solves Transportation Needs for Thousands
Through its luxury motor coach charter service, Academy Bus, the largest privately owned and operated ground transportation company in the United States, recently completed a busy and active second half of 2022, providing transportation services and support for many of the Eastern Seaboard's largest events. Academy's charter service, which moves small to large groups, professional and collegiate sports teams, and conventions and other large events, is regularly called upon to move people, easily, efficiently and safely from point to point.

"Over the years, Academy Bus has become a trusted partner of many of the largest events in the eastern United States. Whether it's NCAA or professional athletic teams and their support staff, runners, Special Olympians moving participants, event volunteers or fans, we move them safely and efficiently across some of the East Coast's largest metropolitan areas," said Francis Tedesco, CEO of Academy Bus. "As we embark on the college bowl season, we are especially proud of our successful track record supporting the transportation needs for college teams."

In recent months, Academy Bus has been directly involved in meeting the transportation needs of the following:

• Special Olympics USA Games 2022 – Capitalizing on Academy's deep experience in Orlando, FL, Academy provided an extensive schedule of buses to transport athletes and coaches, spectators and games staff through venues across central Florida this past summer.

• 2022 MLB World Series – When professional baseball's fall classic, the World Series, came to Philadelphia this past October, Academy was tapped to provide transportation for athletes, coaches and team support staff between the airport, city hotels and Citizens Bank Park.

• runDisney's Wine and Dine Half Marathon Weekend – In the days leading up to and including the three days of one of Disney's most active weekends of running events, Academy was an integral partner in moving runners, volunteers and race staff between Disney resort hotels and an array of venues across the Walt Disney World property.

• TCS New York City Marathon – In early November, Academy managed the transportation of runners and race staff for the 2022 New York City Marathon. This year's race is the first race since the COVID-19 pandemic began where sponsors have returned to the full number of runners competing.

• New York City Thanksgiving Day Parade – On November 24, Academy provided transport for parade participants and staff for New York's penultimate annual parade. The company provided a number of buses that navigated the streets of Manhattan from the wee hours of the morning through the end of the day's events.

• NCAA Bowl Games – Between mid-December and early January, Academy Bus will be moving teams and staff for the Cure Bowl, Boca Raton Bowl, Gasparilla Bowl, Cheez-It Bowl, Orange Bowl and Citrus Bowl in Florida; the Fenway Bowl in Boston; the Military Bowl in Maryland; and the Pinstripe Bowl in New York City.

Academy Bus is a bus company not a broker, garnering an industry-leading reputation for top quality customer service and a diverse fleet of motor coach equipment. The company also takes the safety of our customers very seriously. We have extensive driver training and re-certification programs conducted by our team of full-time safety managers. Academy maintains comprehensive insurance coverage well beyond the minimum required. Coaches are equipped with the latest safety technology including on board camera systems.

# # #

About Academy Bus
Based in Hoboken, NJ, Academy is the largest private carrier in New Jersey and the largest privately owned and operated ground transportation company in the United States. Utilizing almost 1,100 top-quality buses, across 20 markets from Boston to Miami, the company maintains a diverse set of service offerings in charter, commuter and casino operations. Whether moving 20 or 20,000, Academy has the expertise to satisfy every customer. For more information on Academy, please visit www.academybus.com.