BACK TO ALL ARTICLES
April 01, 2023
Academy Bus Introduces the Mercedes-Benz Tourrider Coach In First Expansion of Fleet Since The Covid-19 Pandemic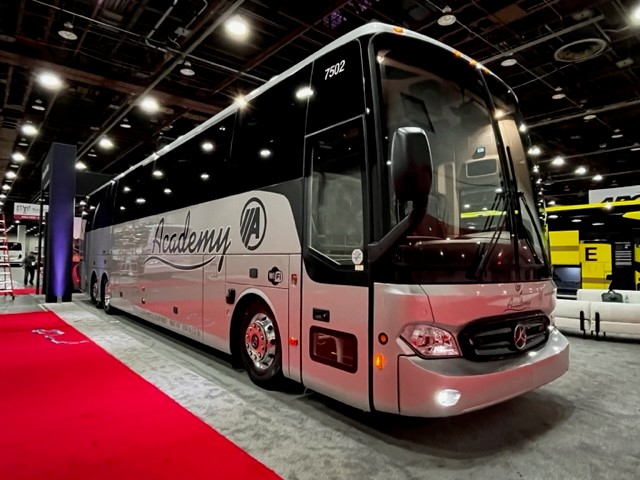 Academy Bus and Daimler Coaches North America Continue Decades-long Partnership with Launch of New Motor Coach Model
Academy Bus, the largest privately owned and operated ground transportation company in the United States, today announced the launch of its first Mercedes-Benz Tourrider Coaches from Daimler Coaches North America, the first of five to be added to the company's fleet this year. Academy Bus also plans to add 20 additional charter buses this year, the first expansion of their 650-coach fleet since the start of the COVID-19 pandemic.
"Academy Bus has been a long time operator of Daimler brand coaches, and we are thrilled to continue that decades-long partnership with a number of new motor coach vehicles," said Francis Tedesco, CEO of Academy Bus. "This new Mercedes-Benz Tourrider Coach is emblematic of the comfort and luxury we strive to provide our clients, and we are looking forward to hearing the reviews from customers as more of these coaches get on the road."
The Tourrider Coach, unveiled in 2021, was designed specifically for the North American market. Equipped with in-house made seats and a host of convenience features, the three-axle high-deck coach is also the first motor coach outfitted with Daimlers' unique Active Brake Assist-5 emergency braking system. The automated emergency stop system detects and responds to pedestrians and stationary objects immediately, regardless of driver response or reaction. Academy Bus has operated Daimler vehicles for several decades, starting with the Setra Coach, Mercedes-Benz Sprinter, and now the Mercedes-Benz Tourriders. The investment in the Tourrider Coach marks the latest in a decades-long partnership with Daimler.
"Academy's input and experience during the design phase of our coach has been instrumental." Said Thomas Rohde, President and CEO of Daimler Coaches North America. "We are happy to see the first Mercedes-Benz Tourriders in Academy's fleet and are thankful for the trust in our product and in our company."
Academy Bus began its operations in 1968 as a family-owned and operated business. It is the largest privately owned and operated transportation company in the US, and has been serving the East Coast for over five decades. Known industry-wide for high quality customer service and well-maintained, new equipment, Academy Bus has set standards for ground transportation.
Academy Bus currently operates charter and group tour buses up and down the East Coast from operations centers stretching from Boston to Miami. They operate commuter buses from New Jersey to Manhattan and from Virginia and Maryland to Washington, DC plus service to downtown Baltimore in Maryland. Academy also operates scheduled casino buses to Connecticut and South Florida casinos.
###
About Academy Bus
Based in Hoboken, NJ, Academy is the largest private carrier in New Jersey and the largest privately owned and operated ground transportation company in the United States. Utilizing almost 1,250 top-quality buses, across 17 markets from Boston to Miami, the company maintains a diverse set of service offerings in charter, commuter and casino operations.  Whether moving 20 or 20,000, Academy has the expertise to satisfy every customer. For more information on Academy, please visit www.academybus.com.