BACK TO ALL ARTICLES
February 03, 2023
Academy Bus Launches SilverPass Mobile App to Make Trip Planning and Paying Easier and Safer for Riders During the COVID-19 Pandemic and Beyond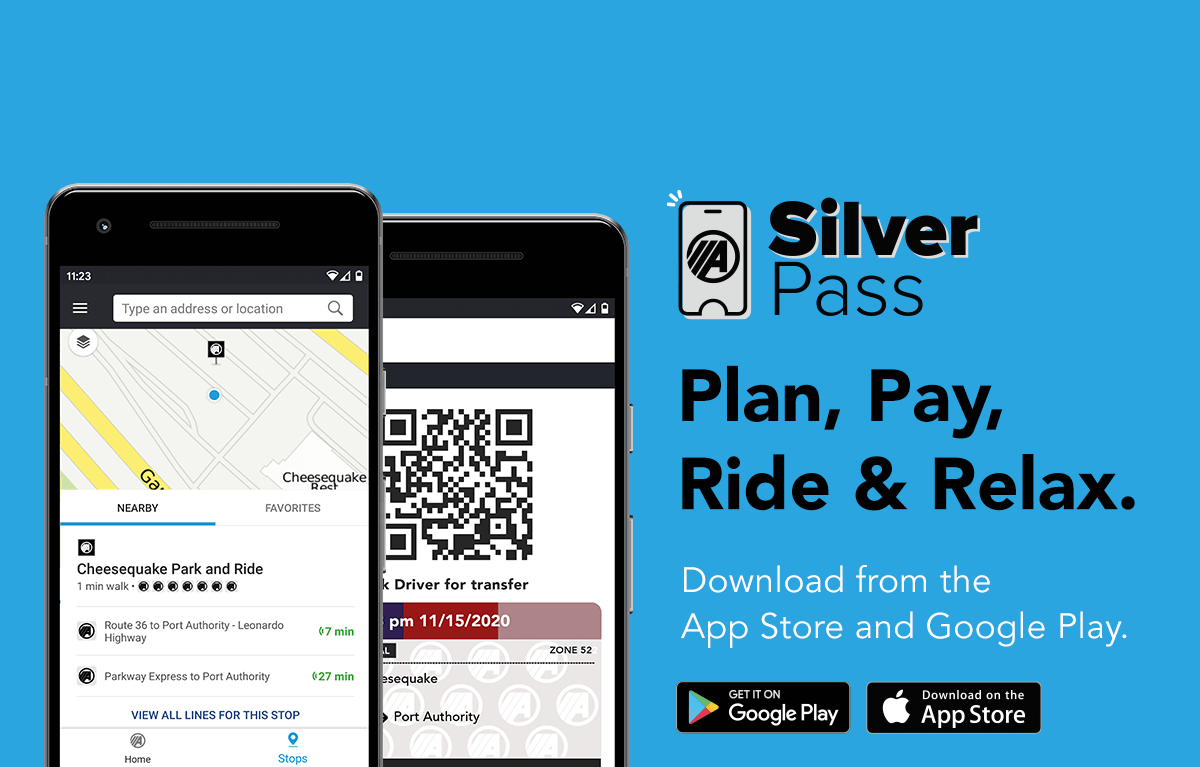 New Mobile App Powered by Moovit, with Contactless Payment Powered by Masabi, Ensures a Safe Plan, Pay and Ride Experience
HOBOKEN, NJ – February 3, 2021 – Academy Bus, the nation's largest privately-owned ground transportation company, announced today that it has launched SilverPass, its first mobile device application. The app will offer complete mobile-based route planning, pay and ride capabilities for Academy's daily commuter routes between New York City and destinations throughout New Jersey.

Along with the new mobile platform, Academy is launching a new 40-Trip discount package, designed specifically for workers splitting their time between working from home and commuting to the office two or three days per week.
SilverPass will be available through Apple's App Store for devices on the iOS platform and through the Google Play store for Android-based mobile devices. The app is powered by Moovit's Mobility-as-a-Service platform, and Masabi's Fare Payments-as-a-Service technology, both leading solution providers in the transportation industry.
"After an extended period of development, and with the support of our technology partners, Masabi and Moovit, we are pleased to bring this modern convenience to our riding public," said Francis Tedesco, President and CEO of Academy Bus. "As our society continues to manage the current public health emergency, SilverPass will not just offer a more convenient ticketing experience, it will offer our daily commuters an opportunity to transition their traditional ticketing process to be truly contactless during a period of concern over high-touch, high-traffic surfaces."
SilverPass will allow commuters to plan their trip and pay for their tickets anytime, anywhere. Ticket inspection will be provided by a new Inspect App, giving staff the ability to securely validate tickets in a contactless and COVID-safe way. In addition, in order to make it easier to anticipate the arrival of their motorcoach, SilverPass will allow users to see its current location through the use of GPS technology.
SilverPass is powered by Moovit's MaaS platform and its White Label App capabilities, the same technology that Moovit's free mobility app is based on. Tapping into Moovit's robust features, SilverPass guides people in getting around effectively and conveniently via any mode of transport. Moovit also provides SilverPass users with multimodal journey planning and real-time arrival information, so passengers know exactly when their bus or train is arriving; a Live Directions feature with Get-Off Alerts to provide step-by-step guidance for the entire journey; and Service Alerts so they can avoid disruptions on usual lines and plan their journey accordingly. The technology also incorporates accessibility features, empowering people across the disability spectrum to use public transportation with more assurance. The app is optimized with screen reading features for low vision users, identifies wheelchair-accessible routes and stations, calculates step-free routes, and is equipped with optimized menus and buttons for those with hand-motor disabilities.

"We are pleased to bring our award-winning Mobility-as-a-Service solutions to Academy's SilverPass mobile app, giving their daily commuters real-time information on the current location of their motorcoach, and allowing them to make informed decisions on their transportation when on the go," said Yovav Meydad, Moovit's Chief Growth and Marketing Officer. "Moovit owns and operates the world's largest repository of transit and urban mobility data, which allows transportation companies the ability to address their mobility challenges and increase their level of service to their customers. We are delighted to have Academy Bus as the latest addition to our customer family."
The new mobile ticketing option will be powered by Masabi's Justride platform, made available through its Justride Software Development Kit (SDK). Justride is a multi-tenant, Fare Payments-as-a-Service platform that can be configured in different ways for companies like Academy. This allows them to benefit from the latest ticketing innovations quickly and cost-effectively with regular feature updates for everyone using the service.
"We are thrilled to bring our mobile ticketing experience to Academy Bus and its daily commuters, together with our partners at Moovit. In unprecedented times like we are currently in worldwide, providing a mobile app delivers an added level of convenience and a safe way to pay and ride for both passengers and staff," said Brian Zanghi, Chief Executive Officer of Masabi. "Ultimately, our goal is to enhance the rider experience while making the ticketing process and administrative functions more efficient for transportation organizations, and we are delighted to be part of the team bringing SilverPass to market." Masabi serves more than 100 transportation agencies of all sizes across 10 countries.
Ahead of its launch, Academy Bus has been alerting current customers to the new app through on-board notices on its motorcoaches and has been actively training drivers on the new technology. While ridership continues to rebound from the low ridership levels during the peak of COVID-19 in the tri-state area, the launch of SilverPass is expected to enhance ridership overall through its contactless experience. For more information, visit Academy Bus on the web at www.academybus.com
###
About Academy Bus
Based in Hoboken, NJ, Academy is the largest private carrier in New Jersey and the largest privately owned and operated ground transportation company in the United States. Utilizing almost 1,250 top-quality buses, across 17 markets from Boston to Miami, the company maintains a diverse set of service offerings in charter, commuter and casino operations.  Whether moving 20 or 20,000, Academy has the expertise to satisfy every customer. For more information on Academy, please visit www.academybus.com.
About Masabi
Masabi is bringing Fare Payments-as-a-Service — a better way of delivering fare payments — to public transit agencies and authorities of all sizes around the globe. This enables the delivery of the latest fare payment innovations quickly, using a platform which is constantly updating and adding new features. Not only does this improve the journey experience for passengers, but it helps agencies keep up with the pace of technology change, while reducing the total cost of fare collection. Justride, named Ticketing Technology of the Year 2019 and 2020, is used by more than 100 public transit agencies and operators of all sizes across 10 countries. Masabi has offices in New York, Denver, London, and Cluj, and investors include Mastercard, Shell, and Keolis. For more information, visit www.masabi.com.
About Moovit
Moovit (www.moovit.com), an Intel company, is a leading Mobility as a Service (MaaS) solutions provider and the creator of the #1 urban mobility app. Moovit was acquired by Intel in 2020 to join forces with Mobileye and advance its MaaS strategy. Together, Moovit and Mobileye will accelerate the global adoption of autonomous transportation. 
Moovit's iOS, Android, and Web apps guide people in getting around town effectively and conveniently, using any mode of transport. Introduced in 2012 it now serves over 910 million users in more than 3,200 cities across 112 countries. 
Moovit amasses up to six billion anonymous data points a day to add to the world's largest repository of transit and urban mobility data. For governments, cities, transit agencies, and private companies, Moovit offers AI-powered MaaS solutions covering planning, operations, and optimization with proven value in reducing congestion, growing ridership, and increasing efficiency and asset utilization. Industry leaders such as Microsoft, Uber, and Cubic have partnered with Moovit to power their mobility offerings.