BACK TO ALL ARTICLES
November 14, 2022
Academy Bus Tapped to Supplement Sunshine Flyer Fleet in Orlando, FL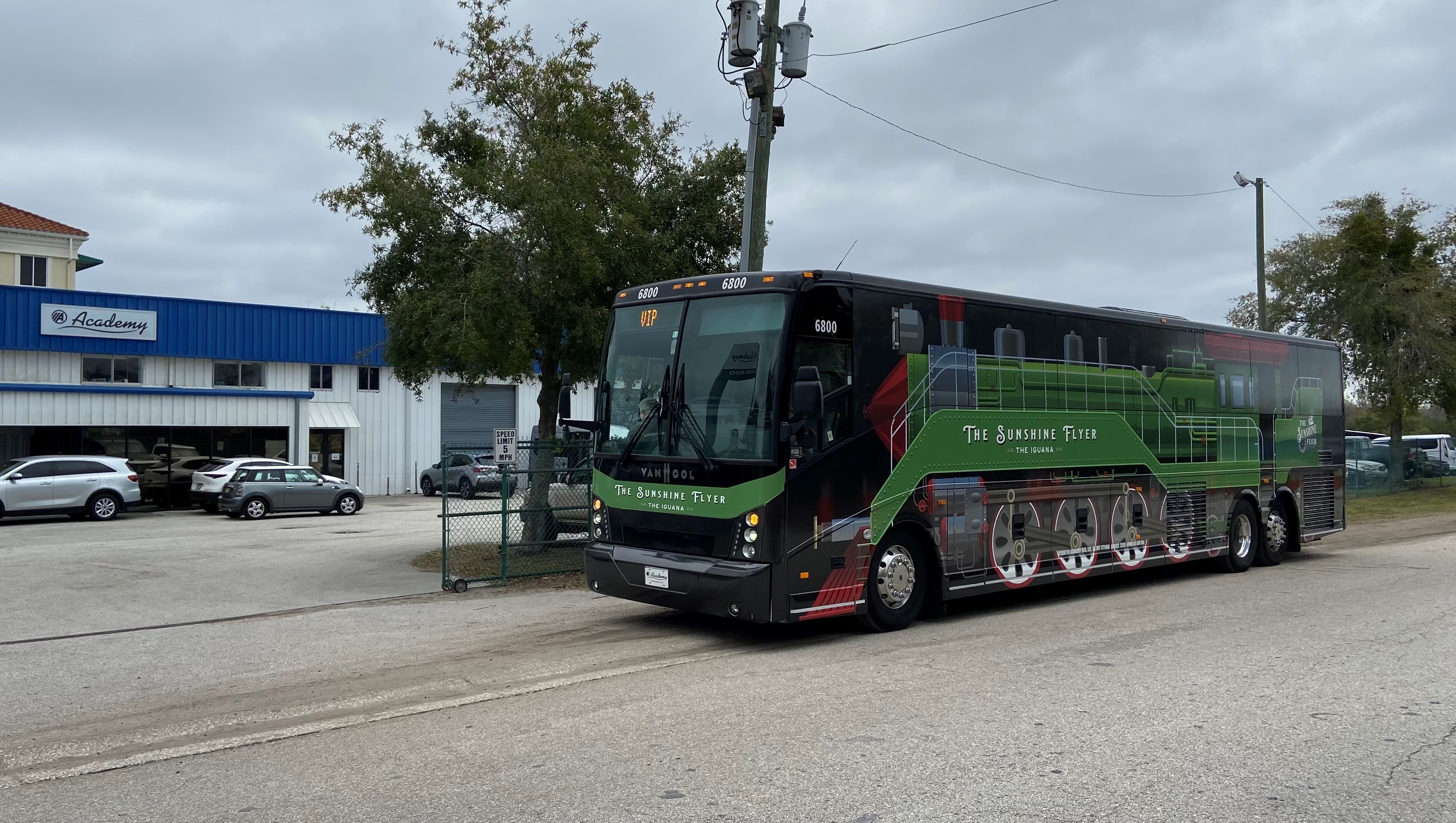 Academy Bus to Provide Motorcoaches and Drivers to Support New Orlando International Airport to Disney Resort Transportation Service
HOBOKEN, NJ and ORLANDO, FL — November 14, 2022 — Academy Bus, the largest privately owned and operated ground transportation company in the United States, announced today that it has been retained as a supplier to Sunshine Flyer, a deluxe motor coach transportation service of Transportation Management Services (TMS) that moves guests between Orlando International Airport (MCO) and the resort hotels of Walt Disney World in Central Florida.

"When Disney made the decision to eliminate their airport transportation service on January 1, we knew there would still be demand for bus transportation from Orlando International Airport for visitors to the family vacation and entertainment mecca. Building on our experience up and down the eastern seaboard, especially in Orlando, we are pleased to be able to partner with TMS to supplement the Sunshine Flyer fleet," said Francis Tedesco, President and CEO of Academy Bus. "We are pleased to be an integral piece to the travel puzzle for Families visiting Central Florida, and Sunshine Flyer is a testament to the quality service that can be offered when you join forces with the best in the business."
Sunshine Flyer, which brings the era of 1920's rail travel to guests' vacations, leverages TMS' decades of experience in the major event transportation space and the depth of experience of bus operations of both Academy Bus and Empire Coach Lines.
The service's buses transports families from Orlando Airport to Walt Disney World® Resorts on a premium motorcoaches themed around old-fashioned passenger cars and train locomotives. From unique bus designs to drivers and staff dressed as 1920's rail conductors and engineers, the Sunshine Flyer experience starts shortly after guests step off their flights. No two vehicle designs are the same, providing a distinctiveness for each ride, giving first time passengers and returning guests a new experience and photo opportunity each time they use the service.
Whether it is airport transportation services, college athletic programs, or moving professional sports teams from an array of sports, Academy is the most experienced motor coach provider up and down the east coast. Meeting the needs of the public and charter clients, with exceptional customer service and high quality equipment, separates Academy in the ground transportation industry. Academy operations centers stretch from Boston to Miami, making almost any location in the eastern portion of the country accessible.
"Since the elimination of Disney's own airport transfer service, Sunshine Flyer has become the most in-demand, most reliable and the most economical airport transportation service between Orlando International Airport and Walt Disney World. It is proof that a collaboration between industry leaders can provide effective transportation services for Central Florida tourism," said Tony Glibkowski, Vice President for Transportation Management Services. "When we looked to create the service, we wanted to team with motor coach companies that understood our focus on effective transportation and high levels of customer service. Academy brings these qualities to everything they do, so it was a win-win for us to include them as a major partner."
Academy has wrapped 15 busses and is providing transportation services based on TMS' specifications for the service. When a guest enters the Sunshine Flyer staging area, they will not wait more than 20 minutes to board a bus. All rides to the resorts are scheduled, so the last stop on the bus routes will not take more than 65 minutes from airport departure to resort drop-off. For airport return service, guests are picked up in plenty of time to make their outbound airline flights.
###
About The Sunshine Flyer
The Sunshine Flyer is a unique motorcoach bus experience from Transportation Management Services (TMS), Academy Bus and Empire Coach Line that provides seamless transportation for guests from the Orlando International Airport (MCO) to Walt Disney World® Resorts. The Sunshine Flyer leverages Academy's and Empire's decades of successful bus operations in the Orlando market, coupled with Transportation Management Services' decades of experience in the major event transportation space, to bring the premiere destination shuttle experience to the Orlando area.
About Academy Bus
Based in Hoboken, NJ, Academy is the largest private carrier in New Jersey and the largest privately owned and operated ground transportation company in the United States. Utilizing almost 1,250 top-quality buses, across 17 markets from Boston to Miami, the company maintains a diverse set of service offerings in charter, commuter and casino operations.  Whether moving 20 or 20,000, Academy has the expertise to satisfy every customer. For more information on Academy, please visit www.academybus.com.